Lots of big questions there, Ben. Before I answer, I should say that I might only be slightly more qualified in answering these questions given my background in human behavior, but whenever predicting the future is involved, there are far too many variables involved for any kind of real accuracy. So basically, my response is just one of many perspectives.
Will future advances in technology be helpful or harmful to humanity?
If we measure harm based on the well-being of humanity, then based on the past I would say that
overall
(taking all technologies into consideration and averaging their benefit and harm to humanity), technology has made the world a better place and should continue doing so. We are pretty good at regulating and controlling technologies that have the potential for great harm. Perhaps it is my optimism, but technology has never been a concern of mine when it comes to harming humanity.
Will technological progress allow the workforce to function more efficiently, or lead many people towards a jobless future?
Again, I am speaking a bit out of my area of expertise here (I think an economist/historian could better address this), but I will take a stab at it. I think the past might be a good indicator of the future here. With the technological advances since 1948, the employment rate has remained relatively stable with the typical peaks and valleys (source: Bureau of Labor Statistics):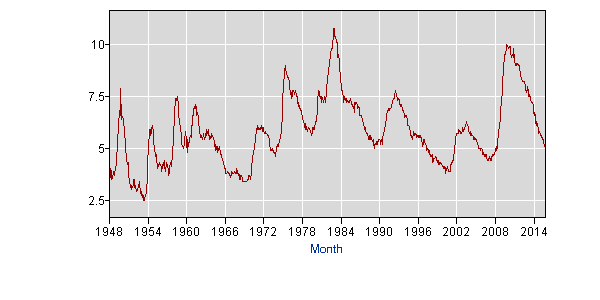 While certain workers will have to learn new skills, new technology generally leads to more opportunities.
Will advancements in artificial intelligence pose a threat to humanity?
People such as
Elon Musk, Bill Gates, and Stephen Hawking think so
. As smart as they are, however, they are speculating and making predictions about the future. Personally, I don't lose sleep over it based on a lack of evidence supporting the idea that it will be a major problem.
---
Bo Bennett, PhD
My Latest Book: https://www.uncomfortable-ideas.com
Facebook: https://www.facebook.com/thedrboshow/
About Me: http://www.bobennett.com